Anybody who has ever worked from home knows how distracting it can be. There are all those important papers you have to read first and then the laundry to do. Folding underwear suddenly becomes utterly important, even if you work all day – or all week – in pajamas. (A widely-known myth about translators; writers are known to also wear robes and slippers.) Working from a less-equipped summer cottage is a completely different setting, however. Or is it?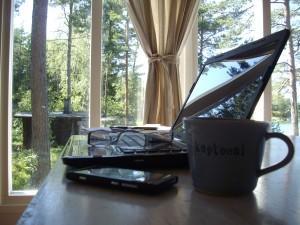 For quite some time I've dreamt about some day working full-time from my summer home by the sea, my Cape Context. As a writer and translator, why not? All I really need is a phone, laptop, and a proper internet connection. A car to occasionally dash off to the civilization. Well, this week I've been practising for my future real time.
The internet connection is no problem. In 2012, the local municipality sponsored a super-fast optical fibre cable connection to all residents AND summer residents for an affordable price. The days of information-society seclusion are so over. But oh, the cable connection also brought along cable TV channels. Nice but also a major distraction.
I have no water pipes coming in to the house and no washing machine, so no laundry to do. Just don't do it. At a Finnish summer house, it is totally acceptable, recommended even, to always wear the same fleece and jogging pants. Neighbors are wearing their mökki clothes, too, so who cares. When I'm by myself, not much cooking or cleaning is necessary either – strawberries, blueberries, mushroom sandwiches, and café lattes are all I need for a week's survival.
My week has been productive, and I've found it easier to focus and organize my tasks than in the city. But I cannot stop staring at and constantly becoming captivated by the sea, the wind in the treetops, and the yellowtailed bird I've never met before. The sunsets are amazing. Luckily this up north in the summer they come very late, 11 p.m. or so. After the day's work better be done anyway. The biggest distraction working from summer home is nature tumbling about right before my eyes. Outside the big windows that need washing, by the way. (Original post and photos by Virve Juhola 2012.)